Coorong National Park's Clean Up Australia
Organised by the Friends of the Coorong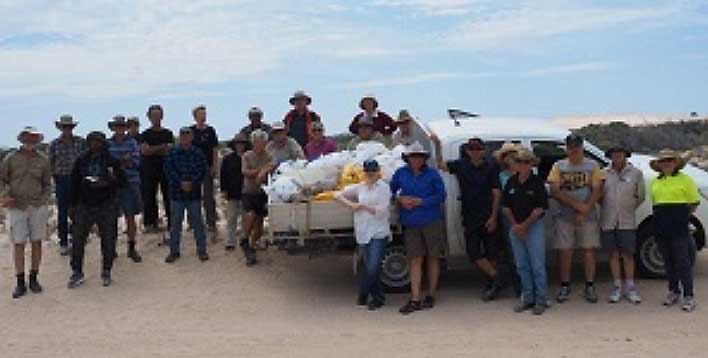 Clean Up Australia Day 6th March 2016
Thanks to volunteers who attended our clean up at Tea Tree Crossing this year. For some it was an opportunity to cross the demanding 4WD track for the first time in a controlled, guided situation. An hour's work collecting on the beach and in the surrounding dunes produced a ute load of rubbish consisting of plastic and glass bottles, plastic bags, nylon rope, cooking pots and pans and various sha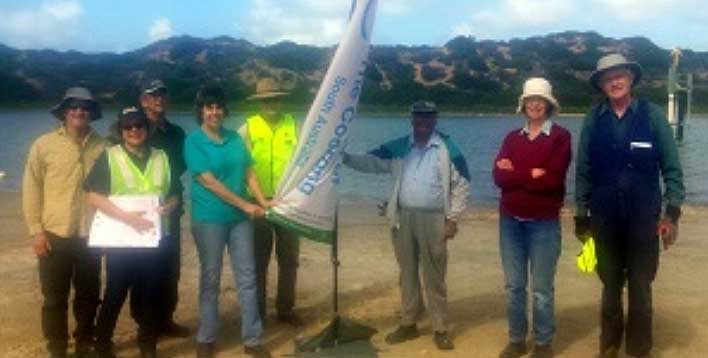 Clean Up Australia Day 1st March 2015
This year's clean up concentrated on areas near the boat ramps and campsites at Parnka Point. Thanks to DEWNR's ongoing maintenance the amount of rubbish was less than expected. To augment the clean up some volunteers concentrated on the valuable removal of feral plants from the area. After the clean up, a picnic lunch was enjoyed overlooking the Coorong. Stories of early times along the Coorong related by Bluey Roberts were keenly received. Some additional rubbish including tyres, an old TV tube and the remains of old tanks was added from the Stretch along Seven Mile Road. A useful day in all.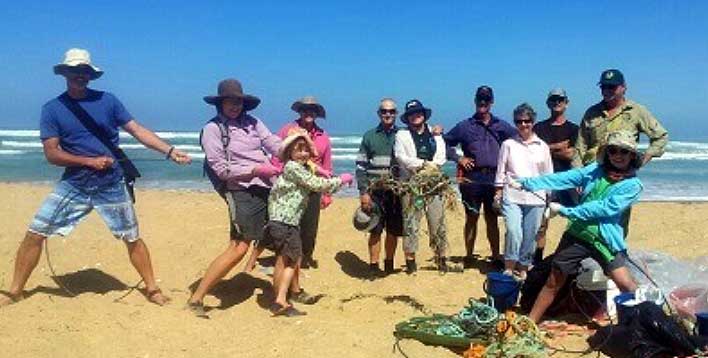 Clean Up Australia Day 2nd March 2014
In 2014 Friends of the Coorong joined thousands of other groups around Australia in the Annual Clean Up Australia day event. Once again the group met at Parnka Point and were ferried across the Coorong by Ranger, Chris Thompson. A short walk along the cockler's track took volunteers to the ocean beach where a foray of 200 meters or so either side of the track discovered more than enough rubbish for the group to retrieve. We were fortunate to be joined by Simon, Tanya, Grace and Saffi, a family from NSW on their way around Australia, veterans of previous clean up events. After returning to Parnka Point and loading up rubbish for proper disposal, the group enjoyed a picnic lunch in the nearby shelter.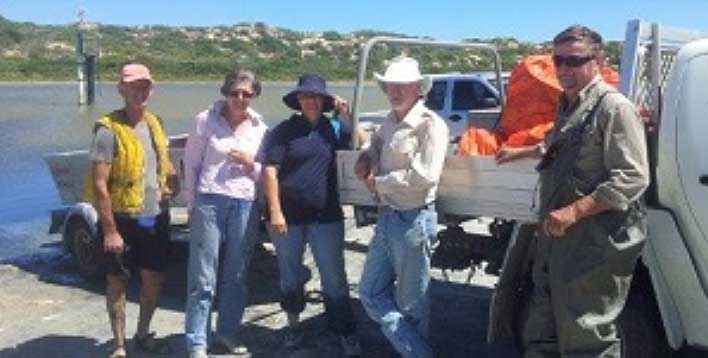 Clean Up Australia Day 3 March 2013
On Sunday March 3, six intrepid volunteers braved the mud at the edge of the lagoon (and it did not smell good!) to climb into the dinghy and cross the Coorong at Parnka Point. Following the cocklers' track, they walked through the sand dunes to the ocean beach. Here they spent some time fossicking around the shore and foredunes, removing rubbish as part of Clean Up Australia Day. Each volunteer proudly returned with a garbage bag filled with a variety of rubbish (flotsam and jetsam from the sea and general waste from visitors) which no longer haunts our Park.
Clean Up Australia Day March 2012
In 2012 members had an enjoyable day paddling the short distance across the lagoon and having a leisurly clean up. Rubbish was collected from around the cocklers' trucks, along the track and the ocean beach shore.
Contact Friends of the Coorong