National Tree Day
Coorong National Park Tree Planting
National Tree Day at Coorong National Park
National Tree Day provides all Australians with an opportunity to do something positive for the environment and reconnect with nature. The event is organised by Planet Ark and helps address important environmental issues like the loss of habitat for native wildlife, soil salinity and erosion, as well as being good for individual and community health.
This is an annual event for Friends of the Coorong and is a perfect opportunity to get out and about during winter.
If you would like to participate in our National Tree Day event contact Joanne Flavel on 85751200 (during business hours Monday to Wednesday) or email joanne.flavel@sa.gov.au.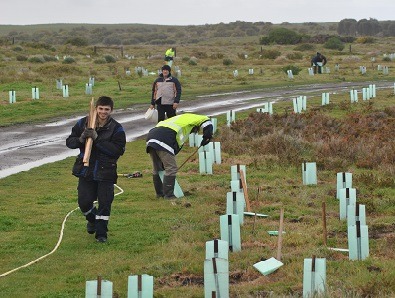 National Tree Day 2015
For almost twenty years Chris Thompson has been propagating native plants for use by the Friends of the Coorong. This year was no exception, Chris provided the bulk of the nearly 250 seedlings planted by the Friends on Sunday, National Tree Day, at Long Point. Very wintry weather was no deterrent to the 13 members of the Friends who helped in planting what will become a wind break to the Long Point campground and enhance the Coorong visitor experience.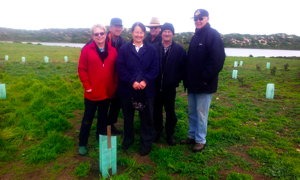 National Tree Day 2014
In July Friends of the Coorong took up Planet Ark's offer of a dirty weekend on Sunday 27th, National Tree Day. The tree planting work of previous years was continued at several sites on Parnka Point and it was pleasing to see earlier plantings becoming established.
Seedlings were grown and provided by Chris Thompson of DEWNR and also provided by Sam Blight of Coorong Tatiara LAP.
Helen Anderson prepared a much appreciated hot lunch of homemade soup and soda bread for the workers, while Natalie Misic, Natural Resources South East Volunteer Coordinator for DEWNR, drove from Mt Gambier to help out and to deliver a new banner to the Friends.
Left to right in the group photo: Beryl Greig, Dean Millard, Joanne Flavel, Chris Thompson, Steve Thorpe and John Hiscock.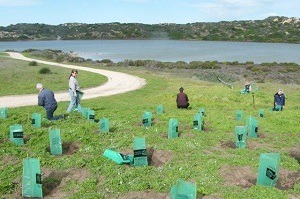 National Tree Day 28 July 2013
A small group of our members spent a pleasant, but windy day taking part in Planet Ark's National Tree Day on Sunday, July 28.
A total of 130 melaleucas and allo-casuarinas were planted in three sites at Parnka Point. Some of the trees were grown by our President and some were supplied by DEWNR.
We also weeded around trees which were planted last year and checked their guards. It was rewarding to see that they were developing strongly with a very high survival rate. It was particularly pleasing to find a nest of four Masked Lapwing eggs amongst these trees, as this bird has taken advantage of the new habitat being created.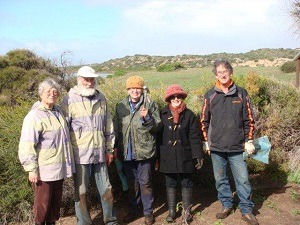 National Tree Day July 2012
A small group of our members met at Parnka Point on National Tree Planting Day, July 29.
Two hundred seedlings of native trees and shrubs were propagated by members during a training day at Cantara homestead last year and these were planted near a picnic shelter, overlooking the Coorong lagoon. Celebrating its 17th year in 2012, National Tree Day has resulted in the planting of more than 17 million native trees and shrubs Australia wide since its inception.
Contact Friends of the Coorong